We are experienced in most areas of law, having handled substantial litigation in the trial courts, Courts of Appeal and the Supreme Court of California, and are associated with outstanding attorneys in several legal specialties to better serve our clients.
ABOUT MR. STERN
Stan Stern is a veteran attorney and former electronic systems engineer experienced in virtually all areas of the law. Located in the West Angeles area, his office represents clients throughout the State of California and beyond.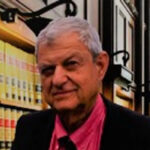 A practicing attorney for over 40 years who has served as:
Instructor of Contracts Law at the University of West Los Angeles Law School
Member of the American Arbitration Association's Commercial Arbitration Panel
Arbitrator for State of California Contractors Licensing Board Consumer Disputes
Judge Pro Tem in the Courts of Los Angeles County
Founder of Californians Against Unfair Lending Practices
The Law Office of Stan Stern serves clients in the following areas:
Personal Injury Law
Employment Law
Business and Real Estate Law
Professional Malpractice
Appeals both for plaintiffs & defendants and the appealing & responding parties.
PUBLICATIONS
Mr. Stern's articles have appeared in leading publications including Los Angeles County and Beverly Hills Bar Journals, Los Angeles Daily Journal, Los Angeles Times Opinion Section, and Journal of the National Academy of Sciences. He has been featured on public television and profiled in San Fernando Valley Magazine as an authority on California law.
EDUCATION
Law School: Loyola Law School, Los Angeles, J.D.
Graduate School: Adelphi University, M.S., Applied Science
Undergraduate: City University of New York, B.E.E.
NOTABLE CASES
Successfully settled employment discrimination/sex harassment case against a major film studio.
Disability discrimination against a food processing/distribution company.
Racial harassment/retaliation against a large restaurant chain.
Multiple wrongful terminations against an internet marketing company.
Instrumental in settling age discrimination case against a national accounting firm.
AREAS OF CONCENTRATION
Real Estate, Civil & Litigation
Appeals
Personal Injury
Professional Malpractice
Employment Law/Discrimination
Notable Appellate Law Cases
Louis v. W. Partners, LLC B265768 12/19/17: Analysis of Home Equity Sales Act of California.
Bastien v. Capielo D06747 6/20/16: Malpractice claim permitted based on failure to adjudicate omitted family court assets.
Malek v. Fenton & Nelson B269398 11/9/17: Claims based on new legal obligations held time barred despite relation-back doctrine.
Cates & Tantara, LLC B240085 10/16/14: Breach of contract claim upheld based on the taking of an unauthorized salary.
Roy v. Steinberg B232053 7/17/13: Legal Malpractice claim barred due to lack of standing.
Deermont, LLC v. Ortiz B247626 4/29/15: quiet title judgment upheld on appeal based on doctrine of res Judicate.
Gonzalez v. City of Santa Monica (2008) 43 Cal 4th 903: Preeminent case on Receiverships for substandard properties under the California Health & Safety Code – which has been highlighted in Los Angeles Lawyer magazine, June 2016 edition.
Mitchum, Jones & Templeton, Inc. v. Chronis (1977) 72 Cal.App.3d 596 140 Cal. Rptr. 160: Seminal case explaining the rules in Contractual Arbitrations in California.
Clermont v. Secured Investment Corp. (1972) 25 Cal. App. 3d 766,102 Cal. Rptr. 340: Development of the rules regarding allowable charges for Late Payments in mortgage loan agreements in California.
Demey v. Joujon-Roche, 133 Cal. Rptr. 570, 63 Cal. App. 3d 178, 63 Cal. 3d 178 – 1976: Regulation due-on-sale clauses in California land sale contracts.